2 – Part In-office Rinse Kit with 1.64% Stannous + 1.24% APF Fluoride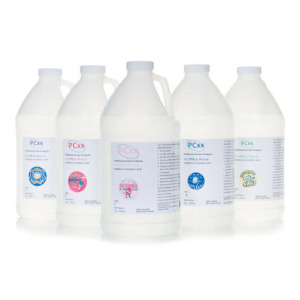 PCxx® Rinse Kits are convenient to use, cost effective and come in a wide
choice of smooth True Natural Flavours  for the best patient acceptance.  Rinse provides excellent fluoride uptake, for those patients who prefer not to use trays.  For Professional Use
 SnF + NaF provides wider range of protection against caries, and helps remineralize tooth  enamel.

Comes with dispenser pumps, pre-measured mixing vials for easy and efficient office use.

5 True natural flavours for increased patient acceptance:
Cool Peppermint (FL-OFC-R-MT)   Screamin' Strawberry (FL-OFC-R-ST)      Luscious Lime (FL-OFC-R-LM)   Grape Explosion (FL-OFC-R-GR)   Bazooka Bubblegum (FL-OFC-R-BG)
---
1 – Part In-Office Rinse Kit with 2% Sodium Fluoride, Neutral pH
PCxx® Rinse Kits are convenient to use, cost effective and come in a wide choice of smooth True Natural Flavours for the best patient acceptance. Rinse provide excellent fluoride uptake, for those patients who prefer not to use trays. For Professional use.  
2% Sodium Fluoride, neutral pH

Non-etching formula, compatible with composite and porcelain dental work

Added protection for patients at risk to tooth decay

Comes with dispenser pumps, pre-measured mixing vials for easy and efficient office use

5 True Natural flavours for increased patient acceptance:
Cool Peppermint (FL-OFC-N-MT)      Screamin' Strawberry (FL-OFC-N-ST)      Watermelon Splash (FL-OFC-N-WT) Grape Explosion (FL-OFC-N-GR)       Bazooka Bubblegum (FL-OFC-N-BG)
---
For additional information on our products, or to find a dealer: Email or Call us at 1-800-663-8303