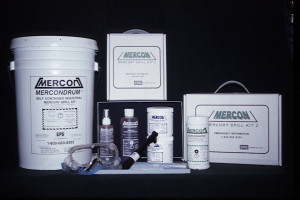 We supply cost-effective mercury remediation and safety solutions for industry, the environment, amalgam safety, home spill clean-up, and mercury protection anywhere Hg-rich materiel may be present.
Replenish your mercury safety kit or station with quality Mercon ® mercury clean-up solutions, tools and accessories; or buy just the components you need to build your own Hg safety compliance or clean-up kit.
---
MERCON™ wipes

Surface, tool and hand wipes for convenient Hg amalgam safety
For cleaning hands, surfaces, tools of mercury and/or mercury-rich materials.  Stops mercury vapor emission and helps cleans up mercury residue which may not be easily seen, but is there in sufficient quantity to continue to release Hg vapor and possibly spread traces of mercury into your office, lab, industrial facility,  and into the environment.
---
MERCON® wash
Part #20-MWASH
Mercury decontamination and vapor control for cleaning mercury contaminated instruments, tools, switches, containers.  Soak and clean-up tools and instruments which have come in contact with mercury or mercury-rich materials.
4 L container of concentrated solution 
---
MERCON® tray
Plastic work tray for safely working amalgam, repairing mercury-based parts and equipment. Absorbs mercury vapor. Catches mercury splatter and residue and keeps work stations mercury safe.
1 – 9″ x 13″ mercury-safe plastic work tray
---
MERCON® sponge
Foam sponge, pre-charged with Merconvap™ mercury decontaminant and vapor suppressant solution.  Used at bottom of work trays or under mercury-based equipment to absorb mercury spill, droplets.  Control vapor at work stations, or near mercury related equipment and tools.
1 – 5.75″ x 11.25″ sponge impregnated with MerconVAP™ mercury vapor suppressant 
---
MERCON® alert
Mercury indicator powder changes color in the presence of  mercury.  Use to identify mercury spill hot-spots, or disclose the presence of mercury or mercury residue.
340 g container 20-MALERT
---
MERCON® sorb
Part # 20-MSORB-500
Mercury solidifying powder.  For use with any of our Hg vapour control and decontamination products, where mercury is difficult to pick up, store, transport.  Powder will solidify mercury, making easier to deal with during clean-up. 
---
CAUTION: Results may vary and depend on site conditions and other factors particular to each mercury clean-up situation. Always consult with a qualified environmental clean-up professional prior to, during and after clean-up to ensure that all work safety and environmental standards are being met by your project. Ross Healthcare Inc. is not the final user, applicator or contractor using any Mercon™ products and is not responsible for the application, field performance or any results from the use, application of any of its products or information; and does not offer any warranties regarding the use of its products by others. Users, applicators and contractors must rely on their own tests, procedures and on-site assessments to ensure that their use of Mercon™ products is safe, legal and meets governing environmental and health regulations as well as their performance requirements.